WEDDINGS
Reding Farms, Chickasha, Oklahoma
LOOKING FOR A DIFFERENT TYPE OF VENUE FOR YOUR WEDDING?
REDING FARMS OFFERS A UNIQUE EXPERIENCE!
WEDDING VENUE NOT AVAILABLE DURING MAIZE SEASON.
CHECK OUT OUR WEDDING PHOTOS PAGE!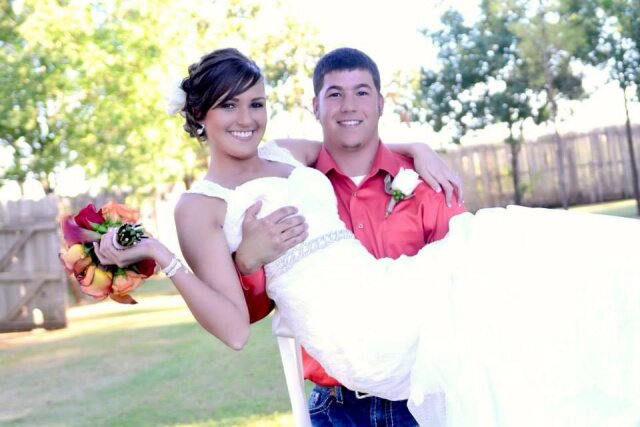 You can choose from the following:
Outside wedding

: $500.00 for 3 hours

$50.00 per hour after initial 3 hours

SET UP FEE

....

$150.00

RECEPTION: $200 for 2 hours; an additonal $50/hour after initial 2 hours.
Other amenities may include:
Hay placed as seating: $6.00 per Bale,,,minimum of 25 bales




Tractor used to transport Bride or Groom: $50.00



Small Bonfire: $ 50.00

Large Bonfire: $100.00

Cooker $ 50.00
You will be responsible for decorating. You will have to provide tables and chairs and other items to be used for this wedding. We have picnic tables only or hay.
To pre-register for a possible wedding date at Reding Farm, fill out our online form below. We will contact you to finalize the details and set up a date for you to visit Reding Farm. If you have not heard from us. please give us a call because it means we did not receive your reservation request. If you wish to reserve a definite date for the wedding, a $100 deposit which is non refundable would be required at that time.
If you prefer to pay this deposit online, click here. This can only be done once you have been contacted by Reding Farm to confirm your date. At that time, a password to access this page will be given to you. We will also mail you an invoice containing the details discussed which must be signed and returned to us. Once we have received both the payment and signed invoice your date will be reserved.
While in Chickasha, Oklahoma stop by the Chickasha Swap Meet!
FALL SWAP MEET....OCTOBER 19-21, 2017
CHICKASHA AREA ARTS COUNCIL PRESENTS
ROCK ISLAND ARTS FESTIVAL (OCTOBER 6-8, 2017)

NOW ACCEPTING CREDIT CARDS!


©2017 Red Silo Productions, LLC at Reding Farm All Rights Reserved
Photo in header compliments of Gina Zhidov, www.z-artscene.com.